QIC Group President & CEO conferred Top CEO Award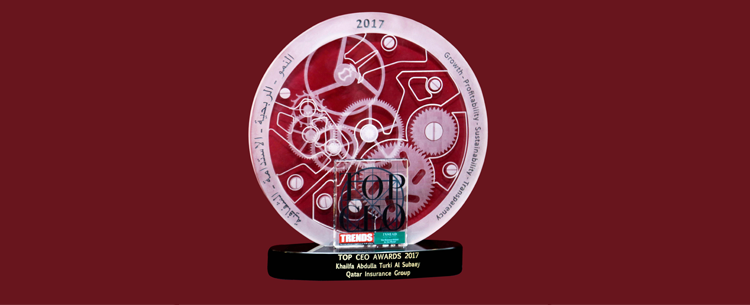 Mr. Khalifa Al-Subaey ranked first amongst insurance professionals in the GCC & secured the 2nd position at the Top CEO Award Ceremony
Qatar Insurance Group President & CEO Mr. Khalifa Abdulla Turki Al-Subaey was conferred an award for being ranked first amongst insurance professionals in the GCC & has secured the 2nd position at the Top CEO Award Ceremony. The Top CEO Award ceremony which was organized by TRENDS magazine in association with INSEAD Business School, was held in King Abdullah Economic City – Saudi Arabia.
The Top CEO award recognizes and salutes the CEOs of companies that are listed in the stock exchanges of Saudi Arabia, the UAE, Qatar, Bahrain, Kuwait and Oman. The classification was based on corporate governance standards and published financials, which formed an essential part of the ranking.  
The Top CEO Award was conferred in recognition of Mr. Khalifa Abdulla Turki Al-Subaey's outstanding leadership, achievements and distinguished accolades.
Mr. Khalifa joined QIC in 1986. Under his leadership, the Gross Written Premium (GWP) of the company has grown from QAR 52.2 million in 1986 to QAR 9.9 billion at the end of 2016. The consolidated net profit rose significantly from QAR 14.4 million in 1986 to QAR 1.034 billion at the end of 2016.
Following Khalifa's well thought out strategy of diversification, today QIC has transformed into the leading insurance group in the Middle-East and entire African region in terms of profitability and market capitalization. In addition, it has grown into a well-diversified global insurance group with offices in the UAE, Kuwait and Oman within the GCC and in Bermuda, London, Zurich, Malta, Dubai and Singapore.
A distinguished and well known industry professional, Mr. Khalifa's penchant for strong corporate governance, operational discipline, ethical and fair business practices have been instrumental in building QIC's stellar growth and performance. He has set new industry standards in the region with wide range of products and quality services for customers and consistent high returns to the shareholders. Today QIC is a trusted brand well known in the global insurance market.
Speaking about his latest accomplishment, Mr. Khalifa Abdulla Turki Al-Subaey stated, "I am deeply overwhelmed to receive the prestigious Top CEO Award. This award is not only an honor for me but also is a tribute to the commendable achievements that have been accomplished through the dedication and commitment of the employees of the Group."
He further added, "This award inspires us in our mission to be ranked amongst the top insurance companies in the world. We will continue to exceed expectations of our customers and ensure sustainable returns for our shareholders."
Mr. Khalifa has played an instrumental role in shaping and enhancing the insurance industry standards in the MENA region. With his passion and commitment towards the insurance industry, he has been actively promoting the value of quality insurance amongst the greater community, which is his way of giving back to the society.
Mr. Khalifa is the also the first Arab to become a member of The Geneva Association –an international insurance think tank comprising chief executive officers from the world's top insurance and reinsurance companies. A well-recognized thought leader, he is actively involved within Qatar's cultural and social development. He is a member of several government, industry, trade and social organizations and initiatives.